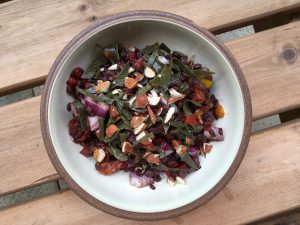 I don't normally get so impressed with a salad but this is really something different!
1 cup brown or green lentils boiled and drained
1/2 cup chopped sun dried tomatos
1/2 cup grilled peppers
1 red onion
10 caper leaves
10 almonds
Firstly you need to give flavour to the lentils so mix them with 3 tablespoons olive oil and, 1 tablespoon red wine vinegar and a drizzle of balsamic vinegar and a generous  pinch of salt. Leave them aside for as long as possible (as long as you prepare the rest of the ingredients) or for a few hours if you are not in a rush.
Chop thinly the rest of the ingredients, red onions, sun dried tomatoes, grilled peppers and almonds. For the peppers you use the ready made ones as well they work fine.
The caper leaves are a rare ingredient which comes from a Greek island, Santorini.  In London you can find them at the Isle of Olive otherwise swap for capers of olives or even both if you like the flavour.
In this salad you can increase the ingredients you like for example the roasted peppers.
Mix everything together toss with almonds and enjoy!