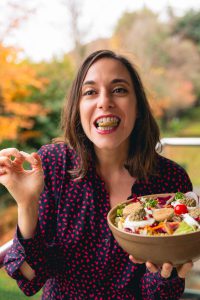 Katerina Kazantza, Founder
I studied Chemistry and I always loved cooking.
My husband specifically and all my friends insisted that I was making delicious stuff, so I started thinking that maybe this career would make me happy.
About 10 years ago I started experimenting with healthy and gluten-free recipes and after completing loads of cooking/baking courses in  London, in 2016 I started a home baking business in the UK.
My products were gluten-free pies and cakes, biscuits and crackers which I sold in local health shops and markets. After this experience, I decided to create a product which will be closer to my heart. My flaxseed rounds are a combination of my Greek heritage with a modern health-conscious approach.
In the last 4 years, I am also the Head Chef of our operations and my main focus is creating the ultimate private dining experience.
Katerina's Pantry and Fare Share:
We are donating regularly a part of our production to a fantastic organisation which is redistributing our crackers to charities and community groups.